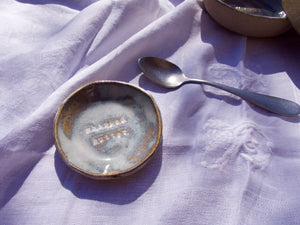 The perfect mini bowl to hold just that butter, or any extra-virgin olive oil, salt, pepper, honey, jam... Whatever you fancy, it should go in there! 
It also does a great job at welcoming jewellery or keys.

DIMENSIONS
Approximate size: diameter 8.50 cm, height 2 cm
Approximate weight: 70 g
Each piece is handmade and therefore different. These dimensions are provided as a guide, on an indicative basis. They will most certainly vary slightly from one piece to the other.
COLOUR
Bruised peach: the very essence of cloudy white, an iridescent glaze full of nuances, playing with the natural colour of the clay. The glaze used is food-safe. The back is kept unglazed for a natural and modern look.
CARE INSTRUCTIONS
All tableware is food and dishwasher safe, however hand washing will extend the life of your pieces. 
Ceramics shouldn't be exposed to rapid temperature changes. Use in microwaves is not recommended, as there is the chance of cracking.
VARIATIONS
Each piece has its own character, with beautiful imperfections, as they are all hand built in my East London studio, before going through two high-temperature kiln firings. I use recycled stoneware, so little speckles and nuances may appear from time to time, that's the beauty of it.