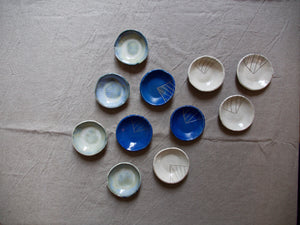 The perfect mini bowl for literally anything and everything... Whatever you fancy, it should go in there! They look even better in a team, laid out in a combo of at least three pieces mixing the different colours.
Food-wise, it is the right size for salted almonds or a couple of sun-dried tomatoes nicely, and it also works nicely as a salt, pepper, olive oil, butter, jam, honey or teabag dish.

These small bowls do a great job at welcoming jewellery or keys. 
DIMENSIONS
Approximate size: diameter 8.50 cm, height 2 cm
Approximate weight: 70 g
Each piece is handmade and therefore different. These dimensions are provided as a guide, on an indicative basis. They will most certainly vary slightly from one piece to the other.
COLOUR
Cloudy blue:

 when cloudy green goes completely cloudy blue! This one cannot be made to order, as it only happens once in a while when the kiln decides so.

Myosotis blue:

 a vibrant blue slip topped with a transparent glaze. The glazes used are food-safe. The back is kept unglazed for a natural and modern look.
The glaze used is food-safe. The back is kept unglazed for a natural and modern look.
CARE INSTRUCTIONS
All tableware is food and dishwasher safe, however hand washing will extend the life of your pieces. 
Ceramics shouldn't be exposed to rapid temperature changes. Use in microwaves is not recommended, as there is the chance of cracking.
VARIATIONS
Each piece has its own character, with beautiful imperfections, as they are all hand built in my East London studio, before going through two high-temperature kiln firings. I use recycled stoneware, so little speckles and nuances may appear from time to time, that's the beauty of it.