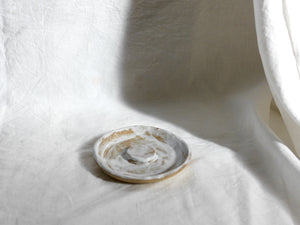 Round like this one or oval-shaped, my soap dishes welcome whichever solid soap bar, shampoo or conditioner bar you fancy. I've designed them specifically for the water to escape freely below, to keep your cleaning supplies dry and nice as long as possible! 
DIMENSIONS

Approximate size: diameter 11cm, height 1.50 cm
Approximate weight: 160 g
Each piece is handmade and therefore different. These dimensions are provided as a guide, on an indicative basis. They will most certainly vary slightly from one piece to the other.
VARIATIONS
I hand-build the soap dishes from a high-quality, warm-coloured stoneware crank clay with a strong textured body, for a sandy look and feel.
The glaze used is food-safe. The bottom of the mug is kept unglazed for a natural and modern look.
The glaze will vary slightly from one piece to the other, according to how it was brought to life in the kiln - that's the beauty of this process.
Each piece has its own character, with beautiful imperfections, as they are all hand built in my Madrid studio, before going through two high-temperature kiln firings.
CARE INSTRUCTIONS
All tableware is food and dishwasher safe, however hand washing is recommended and will extend the life of your pieces. 
Ceramics shouldn't be exposed to rapid temperature changes. Use in microwaves is not recommended.